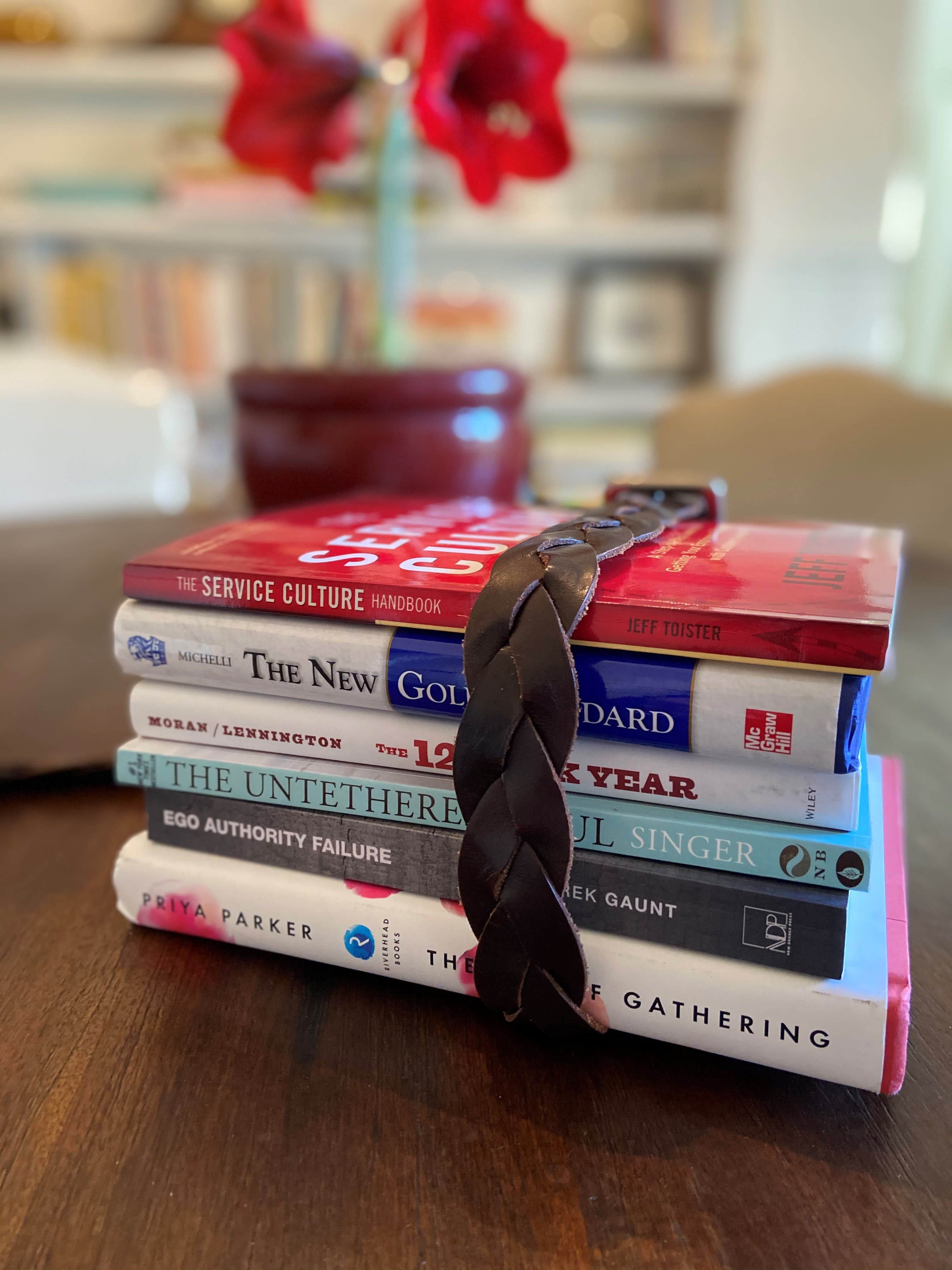 Well RED

At RED we are dedicated to advancement. Whether it's listening, service, negotiation, or understanding more about how we as a society got where we are today, we read to learn. 2020 was a great year of books and one of the gifts of the year's strife was of time; time to read and explore. Below are some of our favorite books. Some we read in our team book club, while others were simply pondered alone and then discussed at length. We hope you'll enjoy these and let us know something you picked up that made a difference in your life.
THE ART OF GATHERING by Priya Parker

We at RED love to gather our friends, family, colleagues, and perfect strangers, for that matter. Priya Parker poses the question of whether our gatherings can be more than they are, and what we could do to make meetings, events and even dinner parties more meaningful and impactful. The pandemic has given us pause to reexamine everything, and because our time is so precious, creating moments that draw in your guests and leave a lasting impression is even that much more important. Making some very simple changes in how we invite our guests to hosting etiquette make all the difference in the world. We particularly like the concept of generous authority as a host. Read the book to find out more.
THE UNTETHERED SOUL by Michael Singer
The book jacket asks the question, "What would it be like to be free from limitations and soar beyond your boundaries?" We certainly want to know. To us, this is one of those books to read with an open mind. Whether one accepts the underlying premise or not, the lessons of introspection and radical self responsibility are worthy of exploration, leading to personal discovery. Michael Singer guides us through the basics of new thought. We begin discussing awakening consciousness and move on to experiencing the energy of the world around us. By understanding simple principles we can begin to free ourselves from prior limitations and begin to live our lives with intention and by design.
THE NEW GOLD STANDARD by Joseph A. Michelli
Of course we want to provide an exceptional customer experience, that's a given. How to do so at the highest possible level is the challenge. The principles sound easy to understand and it is impossible to disagree with the intent behind them. The genius of this author is in his storytelling and ability to illustrate fully the manifestation of the Ritz Carlton Gold Standards in an enjoyable read. As one might guess, the necessary changes start at the top, and are embodied throughout every level of a company, shaping the core culture of the staff and beyond.
EGO AUTHORITY FAILURE by Derek Gaunt
As a follow up to one of our favorites from 2019, Never Split the Difference: Negotiating As If Your Life Depended On It by Chris Voss, which we continue to study and work from as a team, another partner from the Black Swan Group, Derek Gaunt, has given us lessons from toxic leadership. Through examples of hostage negotiation Gaunt shows how when those in positions of authority bring their ego to the table the results are far less optimal and often dangerous to the mission. Instead leaders who choose Tactical Empathy in both the workplace and negotiations experience greater success for their teams and clients. Chapter takeaways, think actions items, make for thoughtful implementation of the concepts.
THE SERVICE CULTURE HANDBOOK by Jeff Toister
During the pandemic we took the opportunity to focus ingraining a higher level of service into our team culture and this little book fit the bill. What we knew and had reinforced was that the key to exceptional service begins with culture, a client-focused culture. As you might imagine from a handbook, this read gave us step by step examples of how to re-examine our current culture and how to align our purpose with our actions in pursuit of increasing our
THE 12 WEEK YEAR by Brian Moran & Michael Lennington
Thanks Coach! As we stepped into 2021 planning our conversation was about how to raise productivity and the singular thought was of intensity. Enter the 12 week year. In a paradigm shift of thinking on how to approach our goals and accountability the concept of planning, working and evaluating our progress in shorter, more controllable windows of time was right on time. As we launch into the new year we now think about achieving our weekly goals allowing our quarters to unfold toward an amazing year. Intensity achieved.
COLOR OF LAW by Richard Rothstein
In a year of turmoil we found ourselves attempting to understand more about our current landscape and more specifically how our neighborhoods were created and have they evolved over the last century. The Color of Law was instrumental in examining the power of federal, state and local authorities and corresponding institutions that sanctioned segregation. A frustrating reading of how state sponsored racism has created the cities and communities we have today, it is hard to fathom the depth of systemic racism. For those having any doubt or denial as to the structural causes, Rothstein's extensive documentation of both the legal, cultural, and financial institutions is clear evidence of the depth of necessary change yet to be made. This should be required reading for every Realtor.